This is a narrative summary and selected slides of the material presented on June 22, 2012 at the Peak Showcase on Organizational Culture and Leadership
Organizations spend over $120 billion annually on training and development in United States. In Canada we spend approximately the same per-capita, so that's about $12 billion. Studies of skill and development transfer from training programs and development investment to on-the-job performance indicate that about 10 -20 % gets applied or adds value to organizations. A great majority of companies are wasting money on programs that are well intentioned but not linked strategically or systemically to organizational development efforts.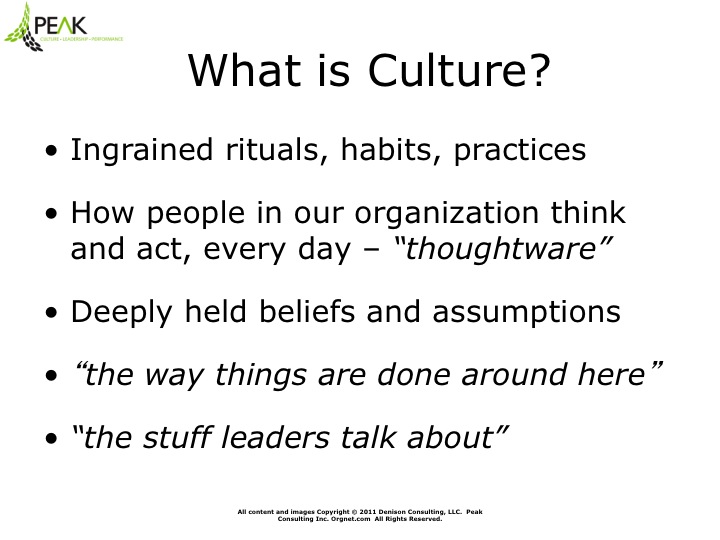 Change efforts, including training and development, employee engagement, employee or customer satisfaction and lean initiatives need to be seen and considered in the context of the overall organizational culture. Focusing on any one program is like ordering a medical test for only one possible cause of an illness. When that doesn't provide an answer, we try something else. The answer lies in treating the system and looking at all points of feedback, not just the most obvious and most popular as we look to elevate performance in the 21st century organization.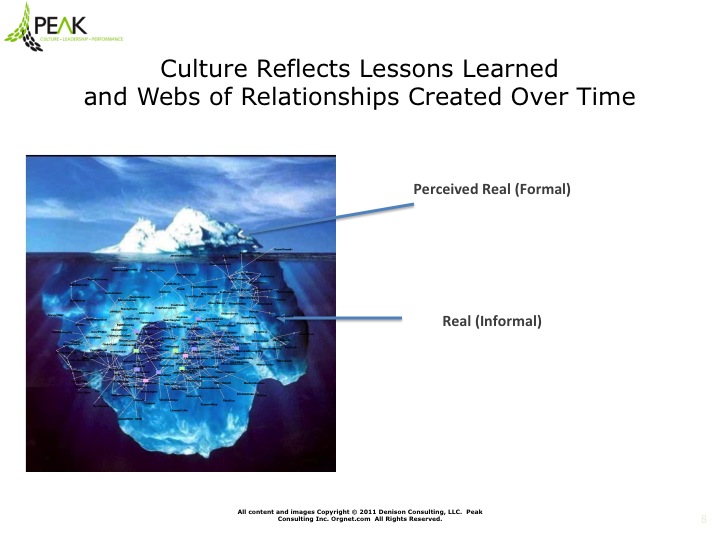 Because cultures are formed over time by a set of beliefs and values systems, they exist as "personality types". They are visible to outsiders and observers in the formal structure and espoused values, while the real organization functions in a complicated web of relationships, habits, practices and informal communication networks.
Cultures can evolve in a positive way, stagnate or regress depending on how much attention leaders pay to cultural attributes. These attributes can have a chilling effect on performance or if aligned appropriately they can improve it and provide significant returns on investment.
According to a long-term research study of organizational characteristics by Dan Denison (University of Michigan) cultures can be measured with four unique traits, and when combined at high levels of practice these traits can produce exceptional results. His research shows that high performance organizations outperform their competitors by 15-20 percent on key financial and non-financial metrics. The culture traits that are linked to performance include Mission, Consistency, Involvement and Adaptability.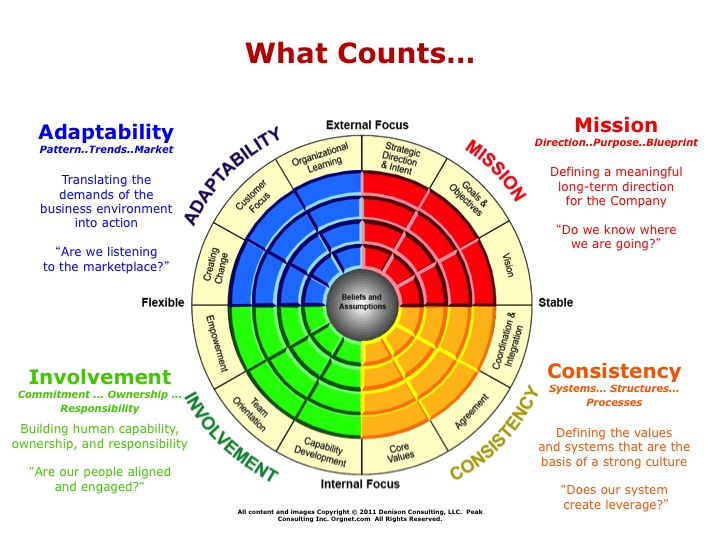 Each trait is broken down into three sub-measures, or indices. The MISSION trait examines the following targets or indices:
Vision – the degree to which employees understand and are engaged and motivated by the organization's ultimate purpose;
Strategic Direction & Intent – the level of clarity and confidence employees have in the key strategies identified to move the organization towards the vision; and
Goals & Objectives – the short-term goals that help engage employees on a day-to-day basis by linking their actions to the strategy and ultimately the vision of the organization.
The CONSISTENCY trait targets:
Core Values – do employees act in an ethical manner and do their values serve as a guide for their actions and the actions of their leaders;
Agreement – the ability to confront difficult issues and work towards agreement in a way that incorporates diverse perspectives and strives for win-win solutions; and
Coordination & Integration – the degree to which employees engage others from different parts of the organization, sharing a common perspective and working effectively across organizational boundaries.
The INVOLVEMENT trait focuses on:
Empowerment – do employees feel informed and involved in the work that they do and do they ultimately believe that they can have a positive impact on the organization;
Team Orientation – the extent to which employees engage in teamwork and how successfully teamwork is practiced; and
Capability Development – do employees think that their skills are valued and that their skills and the skills of others are being developed to build the bench strength of the organization.
The final core trait, ADAPTABILITY, measures:
Creating Change – the employee's perceptions regarding how frequently and readily new ways of doing things are adopted;
Customer Focus – the commitment to engage customers and respond to their changing needs; and finally
Organizational Learning – employee perceptions regarding the importance of learning in the workplace and the degree to which innovation is encouraged.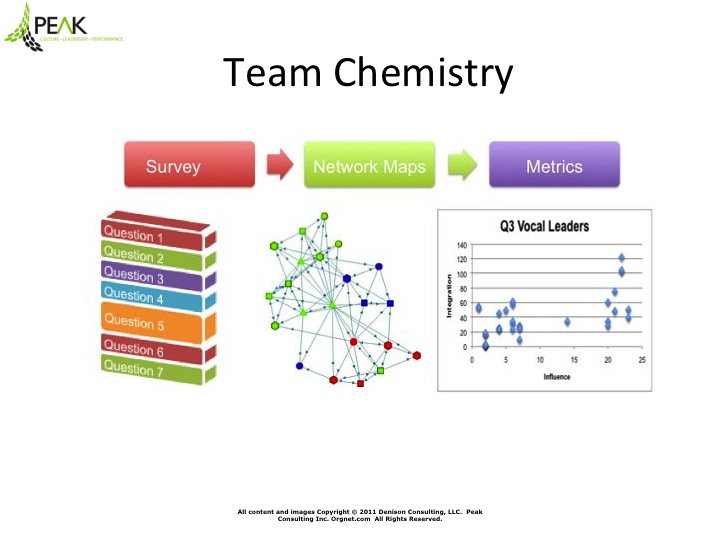 In addition to assessing cultural traits, it's important to understand the informal but critical employee communication and connectedness networks. Successful change initiatives are largely dependent on the "connected leaders" within organizational / social networks. These are the people in your organization who may or may not have formal authority, but are key to linking others in a positive or negative way. They can influence peers, subordinates and others and are able to integrate the broader networked organization by virtue of their skills, knowledge and position of trust. For any significant change to take place, these "informal leaders" need to be part of the solution and need to be engaged in conversations about the future. Leadership networks mirror organizational cultures in that they are the opposite side of the same coin and reflect personal values and belief systems of key people who impact critical practices, ways of doing things and performance.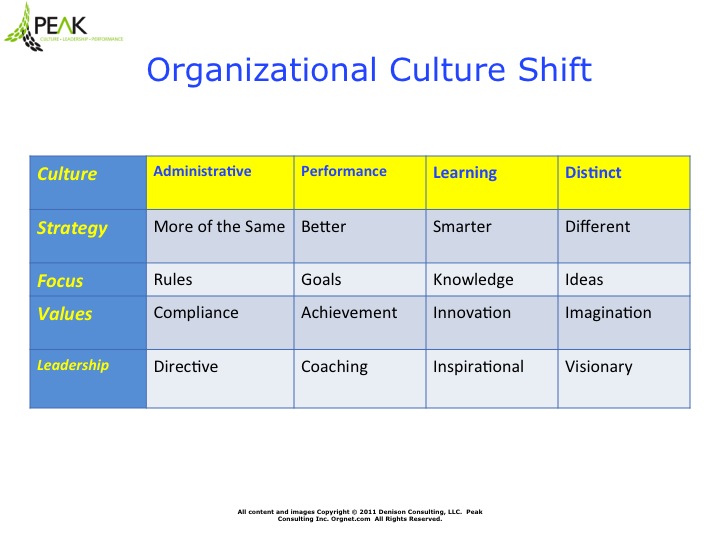 Measurement of cultural traits and benchmarking against a global database allows for the establishment of a baseline. More importantly, it creates awareness of the range of practices and cultural attributes that need attention. Once a strength or weakness (or several) is identified and determined to be important for success through a process that generates acceptance, then leaders can be more confident that any action undertaken that is aligned with the organizations aspiration for the future will be successful.
This type of analysis and approach to organizational development ensures that spending on performance improvement initiatives is well targeted and hits the bottom line. Please contact us at info@peakconsulting.ca for more detail or for a personal briefing regarding the Organizational Culture Survey or Leadership Network Analysis.
tags: culture, leadership, denison culture, network analysis